Yusuff Olayode Saturday Sep 24, 2016
Manchester United surprisingly sank the Premier League champions, Leicester City, in a Saturday 4-1 win that involved £89m Paul Pogba's Premier league first goal after he left Juventus.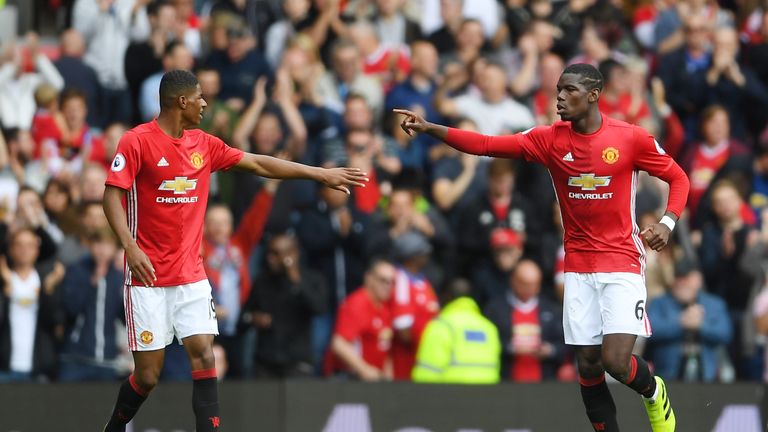 Paul Pogba celebrates with Marcus Rashford after scoring his side's fourth goal
Chris Smalling's headed a goal into the net of Leicester City and Juan Mata, Teenage Marcus Rashford and Paul Pogba netted from corners.
Demarai Gray made the lone goal for disgruntled Leicester.
In the interesting match, Captain Wayne Rooney was almost left out of the comeback win which was sealed before he came in 11 minutes to the end of the game.
Mourinho had earlier said he can drop Rooney anytime.
"If he has to go on the bench, he goes on the bench. If he has to stay at home, he stays at home."
£89m Pogba showed his best capacity, controlling the game with brilliant moves and display of still-in-charge potentials.
Player ratings
Manchester United: De Gea (6), Valencia (6), Smalling (7), Bailly (6), Blind (7), Pogba (8), Herrera (7), Rashford (6), Mata (7), Lingard (7), Ibrahimovic (6)
Manchester United Substitutes: Carrick (5), Young (5), Rooney (5)
Leicester City: Zieler (4), Simpson (4), Huth (4), Morgan (5), Fuchs (4), Mahrez (4), Drinkwater (6), Amartey (4), Albrighton (4), Slimani (3), Vardy (4)
Leicester City's Subs Substitutues: King (5), Schlupp (5), Gray (7)
Man of the match: Paul Pogba